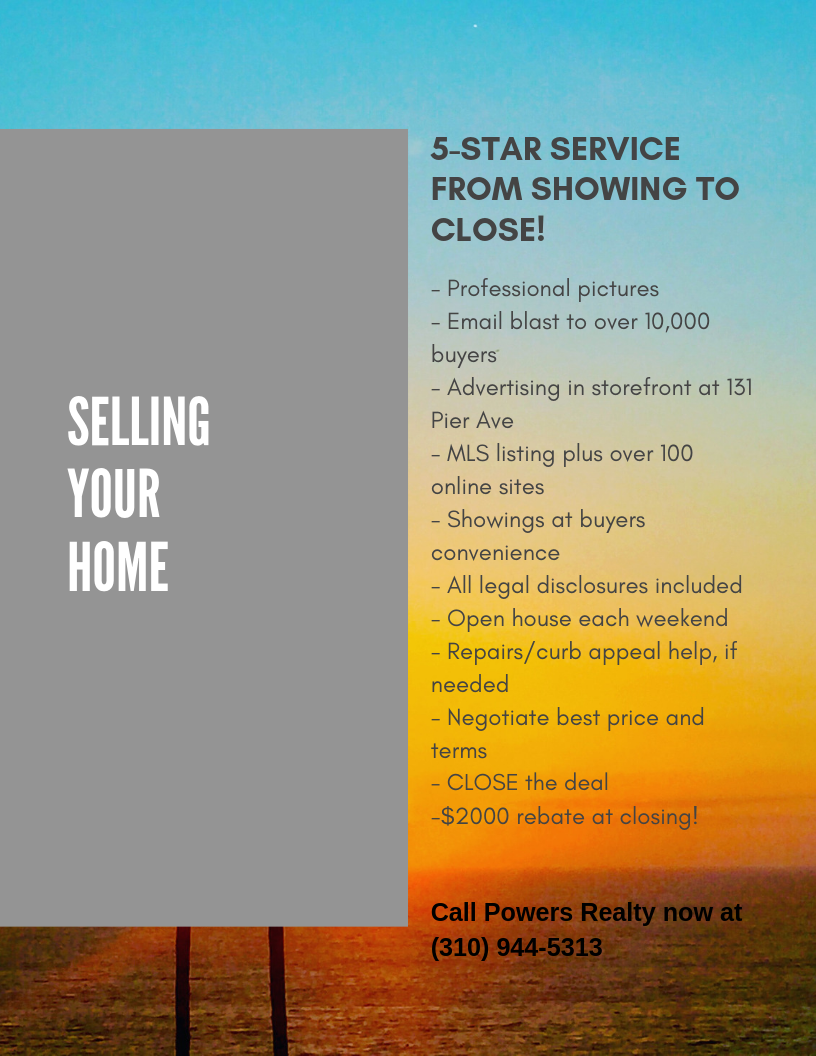 Sell Your Home with Powers Realty
(310) 905-6721
---


How much is my home worth?
This will help you determine the approximate value of your house in today's market.

Staging Your Home
How will your home make a really great first impression?

---


What's that smell?
Learn what real estate agents mean when they say "If I can smell it, I can't sell it."


Hiring a Real Estate Agent
You will not know every requirement for selling a home, most especially if this is your first time selling. Ask the expert.


---


I want to sell my own home.
This is not a time for mistakes. Find out what value a real estate agent adds in selling your home.


Home Inspection
A small amount of time that you spend now can give you a better deal for your home. Find out what the "Must Inspect" areas of your house are.


---


Foreclosure Risk
Have you missed your payments? Find out if you are at risk for foreclosure.


Your next home at your fingertips!
Are you also searching for your next home? See all available listings today.


---




Home Selling Guide for Powers Realty in Hermosa Beach, CA
Selling your home near the beach? It doesn't have to be complicated! Check out our guide below.

Step 1: Get Professional Help
While you can opt to sell your home on your own, hiring Powers Realty will save you a great deal of trouble. Powers Realty has licensed realtors that have extensive knowledge of trends specific to your area. Powers Realty will give you an honest assessment if we can help sell your home.
Remember that the presentation of your home to potential buyers are in the capable hands of Powers Realty.
Step 2: Get Your Home Appraised
Powers Realty will perform a thorough comparative market analysis, which will help you determine the price of your home. The following factors can affect its value:
Its location and views
Its condition
The state of the market and the economy
How it's marketed
Once we have priced your home, Powers Realty will come up with innovative ways to market it. We will market your home online and in print, to prospective buyers.
Step 3: Prepare Your Home
It's a wise decision to have your home inspected for any issues before marketing it. Getting rid of underlying issues (a poor drainage system, cracked paint, etc.) as early as possible will help boost your home's value and save you time during the contingency period.
Improving the curb appeal of your home is a plus. The exterior of your home will help set a potential buyer's first impression of it. Inside the home, you can:
Renovate or remodel outdated spaces
Make essential repairs
Depersonalize your home
Paint your home in neutral colors
Stage it
Making improvements or upgrades on important parts of the house (such as the kitchen and bathroom) can also improve its value.
Remember that there are certain disclosures that home sellers and their agents need to complete before selling the home. Some of these are the Natural Hazard Disclosure Statement (NHDS) and the Real Estate Transfer Disclosure Statement (TDS).
Step 4: Market Your Home
Once your home is ready, it's time to market it. Powers Realty makes use of real estate websites such as the MLS, Realtor.com, Zillow, Trulia and social media platforms like Twitter and Facebook.
Aside from online marketing, there are also some traditional ways of marketing it if the market demands it. Powers Realty will inform your neighbors or passers-by that your house is listed for sale by mailing letters and putting an attractive sign in front of your home. Organizing open houses and email blasts to tens of thousands of potential buyers will also help.
Step 5: Negotiating Offers
After a successful open house and marketing campaign, offers will come in from interested buyers. Consider each one thoughtfully and carefully. Aside from the price they're offering, take note if the potential buyer has their financing in place and if they have contingencies that they are asking for.
Once you've found an attractive offer, Powers Realty will make a counteroffer that represents your best interests, but also takes the buyer's requests into consideration. When you finally accept an offer, you'll be signing a contract that will have contingencies specified. Expect to meet these within a stated period of time.
Step 6: Seal the Deal
With a neutral third-party conducting the closing (the escrow company), transaction costs will be paid. All signatures will be collected, and you will collect your net proceeds. Finally, it's time to let go of your home's title and house keys and present it to your buyer. Congratulations on a successful home sale!
Powers Realty Marketing Campaign
To help ensure maximum exposure for your property, the following methods of marketing may be applied:
Advertisement on the Multiple Listing Service.
Featured in the window of our storefront at 131 Pier Ave in Hermosa Beach, which has thousands of people walking by every day.
Professional photos with aerial drone shots
Ads run in the Beach Reporter and Easy Reader Newspapers.
Advertised Brokers Opens to present your home to thousands of realtors and their buyers.
Letters, postcards and other frequent mail-outs.
Property featured on Powers-Realty.com, along with weekly email blasts to 10,000 potential buyers.
Sharing to Facebook, Twitter, Instagram, etc.
Full Color brochures describing special features of your home.
Signage: 24-hour advertising of your property.
360 Degree Virtual Tours, if necessary.
Electronic Lockbox can be used for ease of showing along with security.
A Trustworthy Realtor in Hermosa Beach, CA

For many people, a house is more than just a piece of property. It's the place where you make memories, raise a family, and can escape from the rest of the world. Your home means a lot to you, so you need a realtor you can trust when it finally comes time to sell it. Buying a home also requires the right realtor with the same level of dedication to finding the right property for you.
If you're thinking, "I want to sell my house in Hermosa Beach, CA," you need a great realtor who will be able to recognize all of the elements that make your home special and highlight them appropriately. They will know the best methods for selling your home, whether that's talking with an extensive network of real estate agents or taking out pages in real estate papers and magazines. Above all, the right realtor will be able to get you the price you deserve for your property.
If you're buying a home, your realtor has to take the time to get to know you and your unique needs. They then need to have the right resources to find you the home that you're looking for and communicate well with you throughout the process. Your real estate agent will also be your voice in the negotiation process, so you need someone you trust to do that on your behalf.
TJ Powers at Power Realty can do all of this and more. With extensive experience in selling homes in Southern California, Powers Realty will know exactly what to do to close a deal on your home, whether you're selling or buying. Powers Realty in Hermosa Beach, CA also handles leasing for clients who are looking to rent apartments in the area.
Start your real estate journey today with Powers Realty. Call us at (310) 905-6721 to speak with our team or check out the featured listings on our site to learn more.



Call Powers Realty Now at (310) 905-6721